The smart connection for carrier programs
retrieve any order
apply any business rule
engage any carrier service
generate any output
Only ShipLink seamlessly connects Epicor E10, Infor CSI/Syteline,
Prophet 21 and SYSPRO with popular carrier programs like
UPS WorldShip, Fedex Ship Manager, DHL EasyShip and Stamps.com.
Full featured, multicarrier shipping solution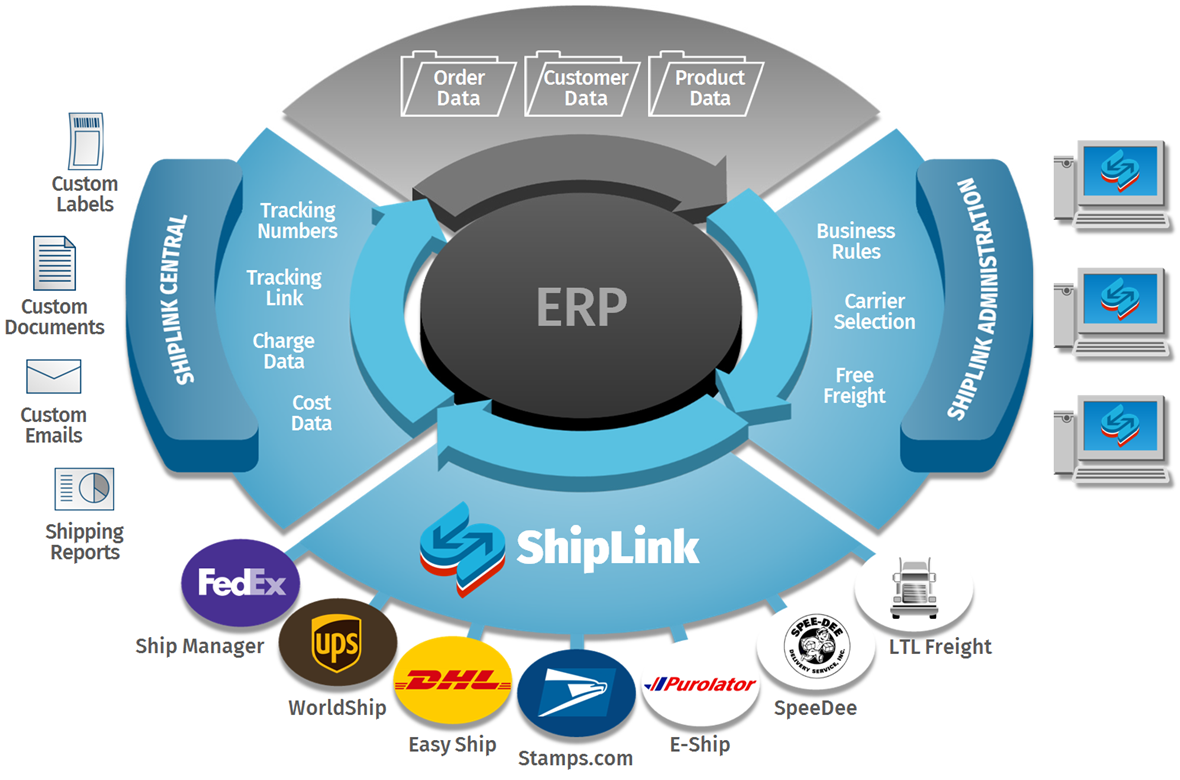 ShipLink intelligently integrates your ERP with popular, carrier-provided software programs to deliver exceptional
performance and value.
Provides single scan shipping from ShipLink WorkStation
Captures 100% of Order, Customer, Item and Shipment data directly from your ERP, including line item detail for
international shipments
Recognizes and applies carrier and freight charge rules created in your ERP and/or ShipLink
Recognizes shipping codes to fully automate the processing of freight and parcel shipments
Auto-populates carrier programs and provides real-time LTL rate shopping
Generates custom labels, docs and transaction-based, dynamic email messages and reports
Returns shipment data, including customized freight charges and linked tracking information to Customer Orders
Returns line item and container-level detail required for EDI 856 ASN generation
Enterprise performance & scalability

ShipLink employs a unique and instantly scalable architecture to support multiple shipping locations and
workstations. The hybrid PC/Cloud solution platform includes:
ShipLink WorkStation Windows PC client application runs alongside carrier programs for users to scan or enter
one or more pick tickets, add cartons and complete shipments.
ShipLink Administration Included with every ShipLink WorkStation, this menu-driven, point-and-click utility
allows for the quick configuration of the ERP integration, including carrier accounts and business rules.
ShipLink Central Cloud-based solution generates custom labels, documents, reports and email messages for
every shipment.
ShipLink Management Cloud This utility maintains workstations, manages configuration back-ups, and provisions
carriers.
Point & click configuration
The ShipLink Administration System provides management with complete control over integration, carrier configuration and shipment processing.
Maintains 'Ship-From' addresses, scales, label printers, currencies and Units of Measure
Maintains multiple accounts & profiles, defines carrier label output data, translates carrier & service codes, applies special service rules and populates commodity data to automate international document preparation
Defines ERP data sources, maintains shipment processing methods, calculates and allocates freight charges and discounts, specifies rules-based email notifications, and corrects mistaken 'Ship-to' address data entry
Performs back-up & restore functions, provides support contact & communication, handles data file uploads, and logs detailed transaction data
Single scan shipping
The ShipLink WorkStation captures order data, applies business rules then instantly populates fields in the select carrier-provided program.
After shipments are processed and labels generated, ShipLink updates your ERP with charge and tracking data. Multi-order consolidation can be fully automated.
Dynamic, data driven
messaging & reporting
ShipLink Central improves customer communications and expands marketing reach with every shipment. Driven by order, customer and item data, the solution applies business rules and document templates to generate custom emails, printed documents and reports, including:
Packing Slips – complete with company logos, line item details and order-related promotional messages
Compliance Documents – including shipment-specific Material Safety Data Sheets, Handling Instructions and International Declarations among others
Specialized Labels – including those required for Contents, Serial/Lot, UCC and Vendor Compliance, among others
Shipping Reports – including Daily Shipments, Cancellations, Order Consolidations and more
Hundreds of successful
deployments
ShipLink solutions power fulfillment for hundreds of large and small companies across the US, Canada and Europe.
Solutions deeply integrate with multiple ERPs to accommodate a variety of B2B and B2C order processing scenarios, including ecommerce marketplaces.
Deployments support a broad range of applications, including Apparel, Food, Cosmetics, Electronics, Industrial Equipment, Medical and Pharmaceutical and Sporting Goods.
Since 2005 ShipLink has gained the knowledge and experience required to quickly and confidently implement tailored solutions for virtually any environment.
Everything you need to ensure a
rewarding experience
Unlike other applications that require time and cost-intensive implementation efforts, ShipLink quickly deploys without starting a project or taxing IT staff. Once running, the software takes minutes to master with expert support and maintenance resources.