Messaging & Tracking
COMPLETE COMMUNICATIONS PLATFORM
ShipLink keeps customers aware of critical shipment information
Communication remains essential to customer satisfaction. With fulfillment this includes keeping customers informed when orders shipped, what goods were included and when to expect delivery. This same information also keeps sales, customer service and drop-shipping partners current on order status.
To maintain communication, ShipLink was designed to automatically generate shipment-specific messages, including ship notifications with linked tracking data, order detail, and contextual promotions.
The message generation process is handled by ShipLink Central™, a cloud-powered resource that provides the business rules and templates required to define and distribute various communications.
Custom Email
With access to 100% of available Order, Customer , Item and other ERP data, ShipLink Central™ may be used to generate any number of custom messages, including rule-based:
Triggering with options to set generation upon shipment, EOD close or custom events
Template selection with support for division, product line and drop-ship merchant branding
Promotional material with option for order detail-driven content
Recipient targeting with options for up to five distinct email addresses
Message material, including templates, text and images are stored in the cloud for immediate access, editing and re-composition.
In effort to ensure proper delivery message distribution is handled by secure and trusted, SendGrid®.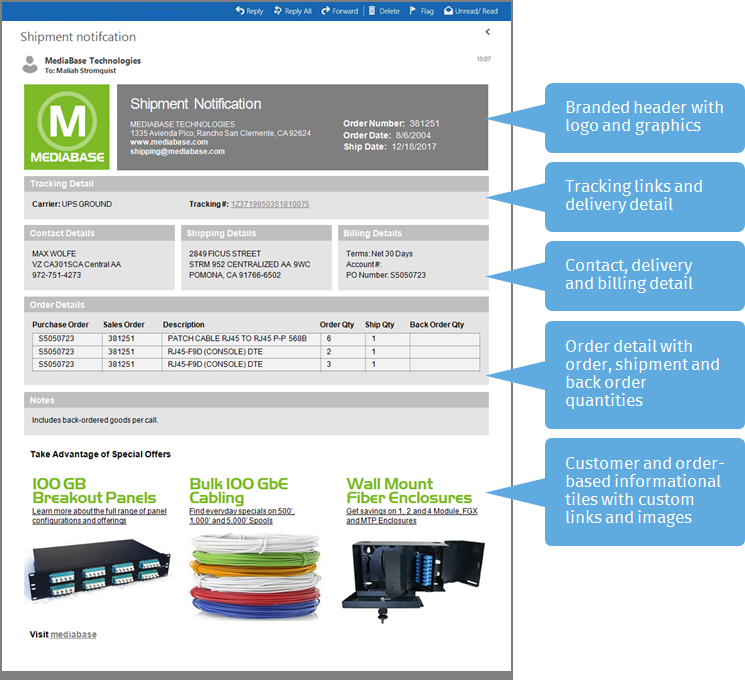 WYSWIG Template
ShipLink Central™ provides a complete library of email templates and a WYSIWUG editor to quickly create any number of custom messages.
With ShipLink CentralTM user have options to:
Drag-and-drop any ERP data field captured by ShipLink
Select HTML fonts and color schemes that match corporate identity guidelines
Upload and insert any number of custom branding elements, including logos, product images and promotional graphics
Create their own, entirely new template with an HTML editor
Preview completed templates to ensure proper appearance and content.
ShipLink Central™ includes a portal to monitor message distribution and status, including:
Bounced and blocked delivery status
Opened or unopened view status
Clicked or un-clicked link status
The portal may also be used to correct erroneous addresses, resend messages and forward messages as needed to additional recipients.