MULTICARRIER SHIPPING SOLUTION
ShipLink extends the full power of Prophet 21 fulfillment capabilities
Prophet 21 provides the power and flexibility to handle virtually any distribution process. ShipLink extends that capability to shipping with a unique solution that leverages the most powerful carrier software programs.
Operating as a centrally managed intermediary application, ShipLink automatically queries and manages detailed Order Processing and Pick Ticket data. It then instantly transmits shipment information to preselected carrier software based on standard business rules. As shipping personnel complete each shipment, ShipLink returns real-time tracking, transportation cost and freight charge allocation data, including that required for consolidated Pick Tickets.
ShipLink employs C# scripting – like DynaChange Rules – to enable shipping logic, trigger invoice generation, and display real-time carrier tracking information among other functions.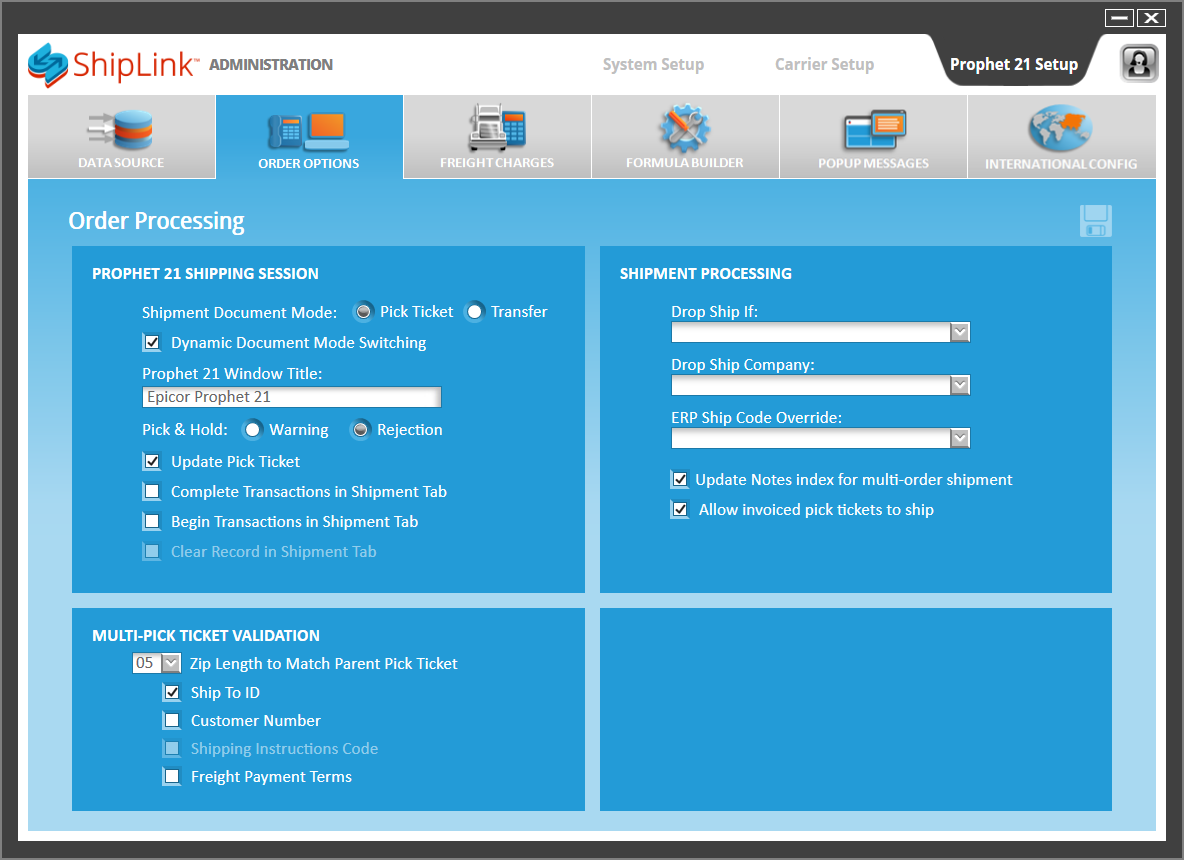 To maximize efficiency and reduce operator errors, ShipLink's Prophet 21 Setup Module provides tools to quickly tailor both inbound and outbound data flows.
PROPHET 21 SETUP MODULE
Directs order information sourcing from Pick Tickets
Directs order update information into the Prophet 21 Orders database
Defines multi-order validation and freight charge allocation criteria
Configures shipment processing function by ensuring enforcement of business rules, including those proscribed in DynaChange
Tailoring inbound and outbound data flows with the Prophet 21 Setup Module ensures the integrity of critical Pick Ticket information before and after shipments are made. Freed from multiple checks of order data accuracy, workers can process shipments more efficiently.
The Prophet 21 Setup Module also provides companies the ability to ensure shipping activity continues in full support of existing sales and distribution processes.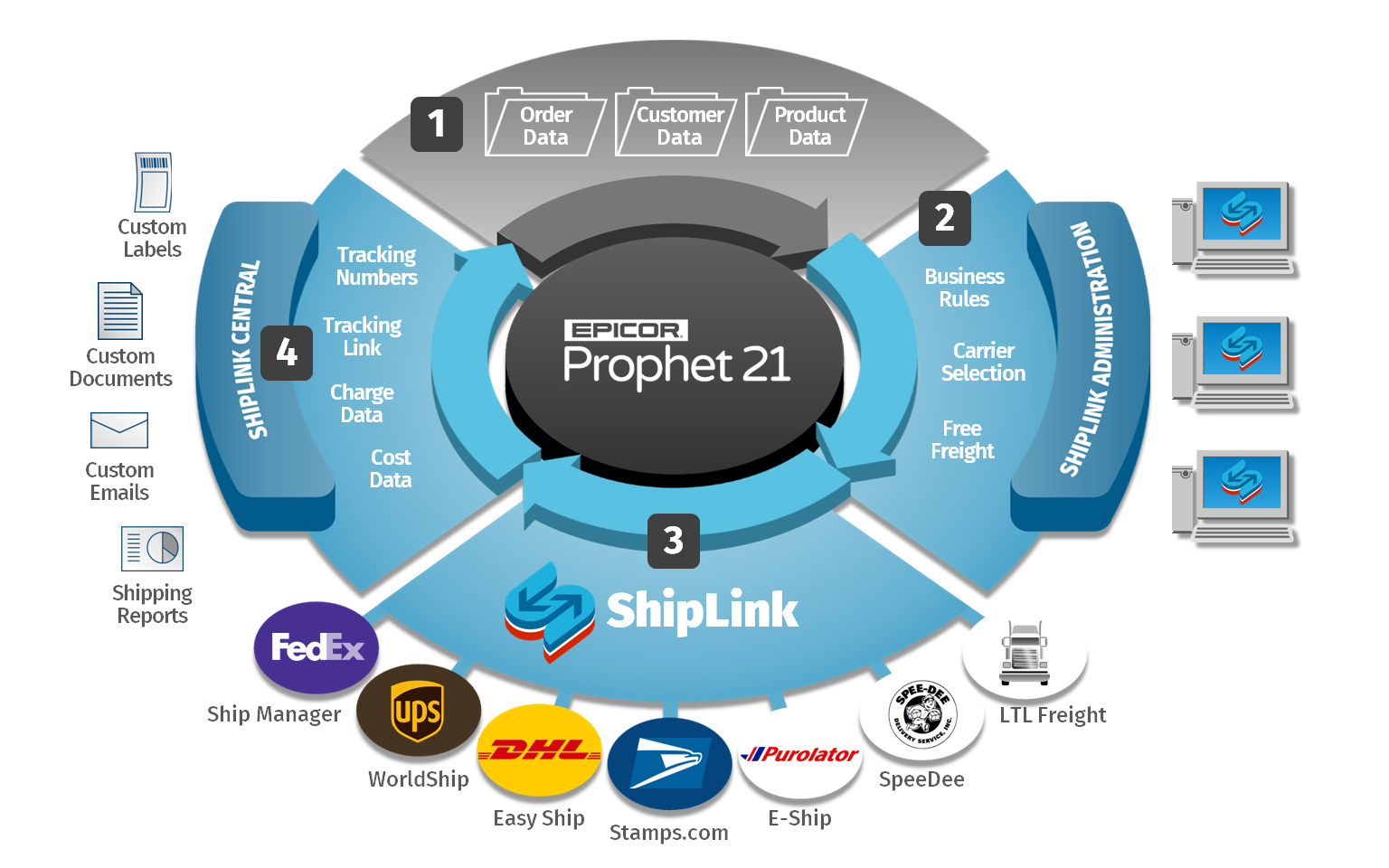 Complete shipping solution for Prophet 21
DATA RETRIEVAL
Shipments start when users enter scan or enter a Pick Ticket number in the simple ShipLink PC interface. Users can also click between Sales and Service orders and originate shipments inside the Prophet 21 Shipment screen. Once done, ShipLink instantly retrieves 100% of
available Order, Customer and Inventory Item detail. With access to the entire Prophet 21 database, ShipLink may also be configured to retrieve additional information. This includes order history and user-defined fields among other data required to customize the shipping process.
This comprehensive data allows ShipLink to process any type of domestic and international parcel and freight shipment, including all of the requisite export and bill-of-lading documents. It also provides ShipLink the ability to automatically calculate custom freight charges, customer discounts, handling fees, and freight cost allocations.
To reduce freight cost and labor, ShipLink can consolidate Pick Tickets for automated multi-order processing. Once done, users simply click desired Pick Tickets for ShipLink to retrieve and consolidate related data into a single shipment.
RULES APPLICATION
After retrieving data, ShipLink applies any number of custom business rules that may be required to implement your company's fulfillment policies. Among other applications, these rules govern carrier selection, service selection, conditional export declarations and special instructions that staff may need during shipment processing. Rules also include those required to generate custom labels, documents, email messages and related reports.
Rules are maintained in ShipLink's PC-based Administration System, which provides library of standard shipping formulas and a C# 'Formula Builder' to quickly edit, test and deploy new business rules.
SHIPMENT PROCESSING
After applying business rules, ShipLink automatically populates the designated carrier program – UPS WorldShip, FedEx Ship Manager, Stamps.com, DHL EasyShip, Purolator E-Ship, Spee-Dee, or one of several LTL freight management systems.   Once done, shipping staff are only left with capturing carton weights then clicking 'Ship' to generate labels.  ShipLink handles all of the data entry including international goods detail and service options.  ShipLink also captures all of shipment data required for post shipment processing, including tracking numbers, tracking links, freight costs and accessorial fees among other items.    
DATA WRITE BACK
After labels are generated, ShipLink instantly transmits shipment data to Prophet 21, including carton weights and rules-based charges, handling fees and cost allocations. ShipLink also updates the Pick Ticket status for immediate invoicing. Users can view all of this data, including real-time linked carrier tracking within the Prophet 21 Portal Shipment screen.
While updating Prophet 21, ShipLink simultaneously prompts the cloud-based Ship Central communications platform to generate any number of rules-based, custom outputs, including:
Packing Lists, Material Compliance Statements and Handling Instructions
Email Ship Notifications with order detail and contextual promotional content
EDI Data in table or 856 transaction format
Any Crystal, Active or SSRS report in stored data and PDF formats
ShipLink Central stores write-back and related data on SQL Server inside your company's network infrastructure. ShipLink Central then provides users with intranet-accessible web service application for shipment tracking, activity reporting, message monitoring and workstation management.